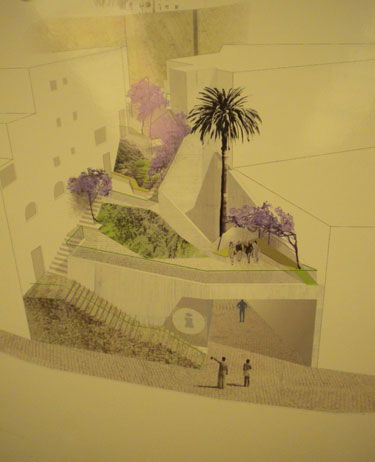 PLANS have been selected for a project named, "Escalera de Color," (Colour Stairway) to link the upper and lower parts of Mojacar Pueblo.
A team of judges lead by Mayor Rosa Maria Cano chose the design out of a total of 44 projects presented.
The town hall say that the stairway which will also include a lift, will create a vertical garden with public benches, and take advantage of natural light and shade.
At night, lighting will be low to enable people to enjoy the night sky. The project will cost €337,000, and building will start during the last three months of 2012.
It is estimated that it will take eight months to complete.
Cano said that as well as helping people with reduced mobility (the lift), it will be useful for people carrying heavy shopping home or wanting to travel up to the town hall and Catholic Church.
She says that the design is in keeping with Mojacar's traditional look, and incorporates low-impact materials and tones. The plans incorporate a tourist information office and a public patio area.