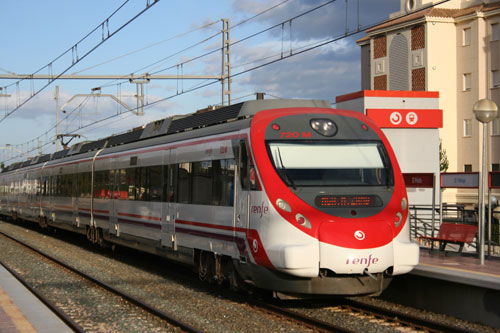 AIR, rail, bus and ferry links look set to be badly hit by next Thursday's national general strike.
While transport services appear unlikely to grind to a halt, only 30 per cent of them could run on the day.
The strike has been called by Spain's two biggest labour unions, UGT and CCOO.
On the railways, during rush hour, only 30 per cent of local services will be operational (25 per cent the rest of the day). High-speed and long-distance services will be at 20 per cent.
Domestic flights will be reduced to only 10 per cent of those scheduled (50 per cent of flights between mainland and the Spanish islands); 20 per cent of flights to European capitals and 40 per cent of the remaining scheduled international flights will be operational on Thursday.
Bus services and ferries are also expected to operate minimum services on Thursday.
Unions called the general strike following the approval of labour reforms which in effect make it easier and cheaper for companies to lay off staff.
The government believes this will act as a catalyst to encourage employers to take on more staff.
Unions and opposition parties complain it will – in the short term at least – lead to more unemployment, as companies will now be able to 'afford' to off-load staff. It seems unlikely the strike was a major surprise to Spanish Prime Minister Mariano Rajoy.
At a recent EU summit meeting he was reportedly overheard telling another leader the labour reforms would 'cost' him a general strike.
Spain continues to have the highest jobless rate in the EU at 23 per cent, more than double the average, and with youth unemployment at nearly 50 per cent.
This will be the first general strike since the Conservative Popular Party government took office in December.
People are advised to check locally whether schools and basic services will open on Thursday.
What happened in 2010 strike
THE last general strike in Spain took place in September 2010 when former PM Zapatero's Socialist PSOE party was still in office. On that occasion unions were protesting against stiff austerity measures.
The 2010 strike was not deemed to be as 'general' as perhaps unions would have wished, with many workers turning up to work regardless.
Widespread reports suggested the strike action and pickets appeared to be limited largely to the time period from midnight and the morning, with several businesses opening later in the day.
Pickets appeared to be centred around municipal services companies including waste collection, transport and port areas.
Unions claimed 90 per cent of businesses participated, other estimates put this figure at 30-50 per cent participation.
By John Jackson