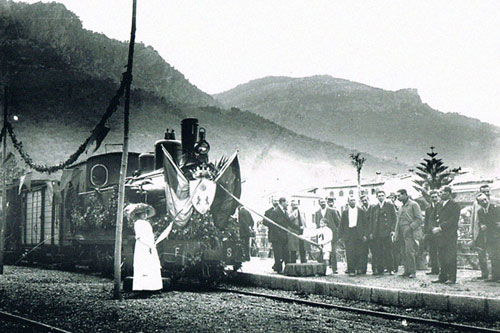 The mountains that surround the Soller valley met their conqueror 100 years ago.
The thinkers of the hidden valley knew that progress was going to be impossible unless they ended Soller's mountain isolation.
At the turn of the century Soller was a boom town trading in cotton and oranges and moving these goods other than by sea was, quite simply, impossible.
The majestic mountains and, in particular, the Alfabia mountain range prevented passengers and goods being transported to the island's main port in Palma de Mallorca.
The only way to travel to Mallorca's capital was by stagecoach across the Coll de Soller, a high mountain with a steep narrow dirt track.
And this was an uncomfortable, slow ride and hard on the horses and donkeys. These days, if you take the same trip by car, it is a good steep mountain road with many bends.
The restaurants you find along the way were once the inns where passengers and animals rested and were fed.
In 1893 a citizen of Soller, Jeronimo Estades, presented plans for a franchise to run a railway through Valldemossa and Deya to Palma.
This was refused because of the high cost of the project but the genie was now out of the bottle and there was a tremendous will within the town to find a way to link Soller with the rest of civilisation.
Ten years later, in 1903, an industrialist Juan Morell proposed the building of a Palma-Soller railway cutting through the Sierra de Tramuntana mountains (below the Coll de Soller pass) via a series of tunnels.
Many discussions and rejections later Juan Morell, Jeronimo Estades and the engineer Pedro Garau formed an alliance and, using their collective expertise, the project began to flourish.
Work started simultaneously from Palma and Soller on 3rd June 1907 and ended with the official inauguration of the railway on 16th April 1912 – hence the railway's 100th birthday next month.
The story is fascinating and the collective will of the people in supporting this project is at the heart of our town.
Soller people identify with the continued success of the Ferrocarril company who run the train and tram.
A new exhibition celebrating the centenary of the Soller train has just opened. This takes place in the Can Prunera Museum of Modern art in the Lluna, just off the main square in Soller.
The exhibition will be the highlight of the year for the museum and will tell the story in more detail than I have of how this dream became reality.
Take a trip on the train from Palma to Soller, wander through the square and up to Can Prunera and celebrate with us the first 100 years of the Soller train.
Can Prunera is open daily from 10.30 to 18.30 during the summer months (1st March-30 September). Last admission is 6pm. www.canprunera.com
By Shirley Roberts
Mallorca & Soller Correspondent