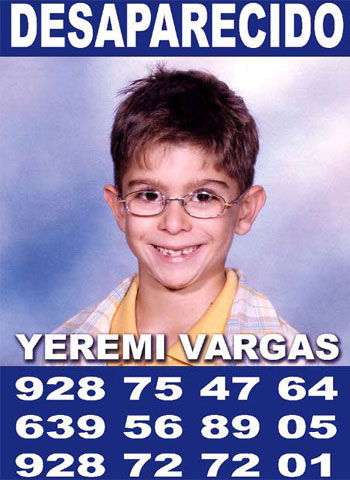 THE family of missing boy Yeremi Vargas has offered a 'generous reward' to anyone who can offer reliable information about his whereabouts.
Yeremi disappeared aged 6 from his home in Vecindario, Las Palmas de Gran Canaria in March 2007.
His mother, Ithaysa, has asked the public to "help us bring our little boy home" and says she cries for him every night.
This comes after the Guardia Civil issued new clues about the investigation on which to reopen the search for him. This includes information that three cars were seen in the area at the time of the disappearance.
They were a white Opel Corsa (driven by a man wearing a cap), an Opel Corsa GSI, and a black Renault Clio with tinted windows and a white daisy sticker on the back.
The driver was in dark clothes and was wearing a visor.
He was seen in the area a week before when he asked for an address, as well as days later when he parked, stayed for a while, then left.
The Guardia Civil have also informed that Yeremi was wearing beige khaki pirate pants, a brown top with orange writing saying 'Skhuaban Denim Works', white and gold Nike Total 90 trainers and blue glasses.
He has a birth mark on his right collarbone.
In the five years since the investigation began, it has been based on the belief that the motive was sexual, although an accident, kidnapping, revenge against the family or organ trafficking have never been ruled out.
A man, 27, was arrested some time ago for calling twice to demand €6,000 for Yeremi.
He was released two days later when it became obvious he didn't know anything about the disappearance. During the search 195 known paedophiles were under investigation and 32 people were arrested.
Anyone with information is asked to contact ucojeremivargas@guardiacivil.org or 900 300 062.
Yeremi José Vargas Suárez
Missing since: March 10, 2007
From: Santa Lucia de Tirajana (Las Palmas de Gran Canaria).
Age at time of disappearance: 6
Description: 1.25m tall, light brown hair and eyes.
Last seen at 1.30pm playing with his two cousins on some wasteland near his home.