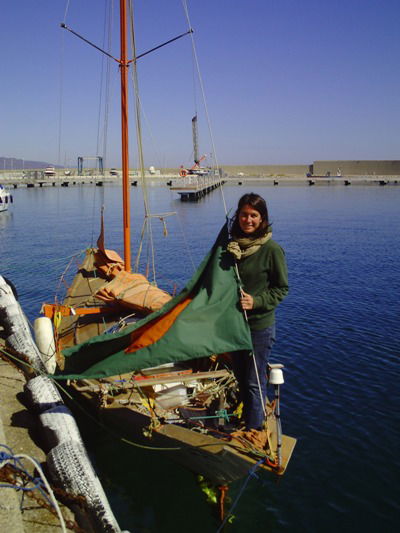 A BRITISH WOMAN, aged 62 of Sierra Cabrera was so inspired by a French woman sailing the Mediterranean single-handedly that she has decided to go with her.
Thirty year-old Capucine Trochet from Brittany, left hospital last July in a wheelchair, after having been unable to walk for seven months.
She didn't know whether she'd ever walk again.
Trochet began her journey from a port near Marseilles on November 17, 2011, stopping in Garrucha on Thursday February 16 because of a storm.
'Tara Tari,' is a nine by two metre sailing boat with no working motor.
When asked how far and for how long she would sail, Trochet said "If the fear gets bigger than the excitement I will stop for a while."
She said she respects, and doesn't challenge the sea. Lynne Hall, who will sail with Trochet is a member of the Santa Irene Sailing Club.
They became friends after Hall offered her a "proper bed". She is "a girl after my own heart," said Hall, "but I'm only going on the next leg to San Jose. It's her trip, not mine."
Trochet's rare childhood disease has meant a lot of joint and leg pain, two knee replacements and thrombosis.
When she left hospital seven months ago, she immediately went to work in her chair repairing the Tara Tari.
In August she could suddenly move her legs, and gradually became strong enough to test the boat on French waters on October 15, 2011.
The boat arrived in France from Bangladesh in August, 2010 sailed by a friend of Trochet's. The thirty year old engineer, Corentin de Chatelperron has since returned to his work with www.watever.org, an NGO in Bangladesh, helping people build traditional boats out of old sacks.
When Trochet told people about her plans to sail the Mediterranean alone in winter, many said she was crazy.. Her family knew how important it was for her and supported her decision.
"My health problems made me even more determined, but I've always been this way," she said. When she was 17 she went to Burkina Faso to build a school.
"When I was 15 I told my parents that I wanted to change the world."
She threw darts at a map on the wall but "they just kept landing in the sea," she said.
Trochet was then living in Barcelona when somebody from Burkina Faso at church inspired her to go there. The Capucine Trochet School opened in 2002 and she helps support it.
Like the "Watever" boats, the Tara Tari is made from jute fibre and recycled materials, including Trochet's own crutches on the mast. She said it's a way of testing the design, and that the NGO hopes such boats will solve wood and boat shortage problems in Bangladesh following tsunamis.
She has a GPS, laptop computer and mobile phone but sails the "old-fashioned way", marking her location with a cross on a paper map every 30 mintues.
The boat has solar panels and a small cabin but Trochet can't sleep while sailing. She said that this is the most difficult aspect of the trip, and she stays awake for up to 48 hours at a time.
When she arrived in Garrucha , she slept for 24 hours and was grateful to Lynne for her bed in Sierra Cabrera. She said she had stayed in port for longer than planned because she felt tired and didn't want to take any risks.
The highlights of her journey have been meeting wonderful people, arriving in Barcelona at exactly the same time as her niece was born there and being interviewed for the Channel Nine news in Valencia.
She's also had three marriage proposals.
On Saturday February 25 the two women left Garrucha but turned back because of force six winds. To find out where they are now, and see photos and videos, visit www.whereistaratari.blogspot.com
By Susan Leach
Inset: : Lynne Hall