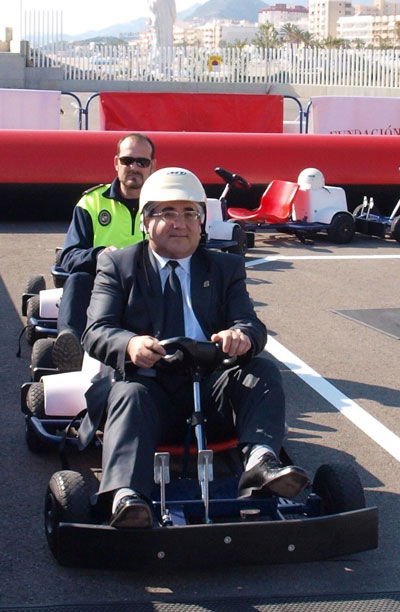 A ROAD SAFETY activity involving around 1,000 school children aged 9- 12 took place near the fishing port in Garrucha for four days.
Children from local schools came in groups of 25-30 with their teachers during school time or after school with PTA leaders.
Students visibly enjoyed the activity which took place last week and spoke positively about the experience.
Sixth year student of the Ex-Mari Orta Primary School in Garrucha, Angelica Hernandez aged 11 said, "It was really fun but I learned some new stuff too, like I didn't know that you weren't allowed to roller-skate on cycle tracks."
Each group of children first attended a road safety lesson taught by trained professionals in conjunction with the local police.
Afterwards the groups were divided into two, with half of the students being observers and the other half drivers.
The drivers drove go-karts around a model of real roads with a roundabout, road signs and one-way streets. Meanwhile their classmates observed them, filling in evaluation forms based on the road safety concepts they had been taught.
The groups then switched over, and at the end of each 90 minute session, students were awarded road safety certificates.
The course was run by Fundacion Mapfre, the non-profit division of the Mapfre insurance company and is being conducted on a nationwide basis.
It is expected that a total of 20,000 students will participate in the activity throughout towns and cities all over the Spain during 2012.
The mayor of Garrucha, Juan Francisco Fernandez expressed his satisfaction with the initiative, and said he was particularly pleased because such activities are often only held in larger towns and cities.
The Mapfre directors said that the port area was a perfect setting for the karting rink and promised to repeat the activity in 2013.
When the very first 90 minute session of the week had ended, Mayor Fernandez and Maria Paz Bonet, the Garrucha civil safety councillor got on go-karts and practiced their road safety skills.
By Susan Leach