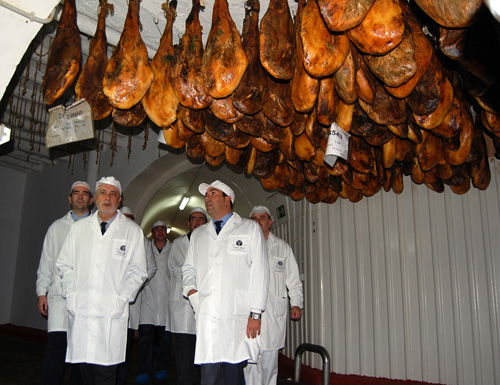 CURED ham produced in Jabugo (Huelva) will not have to share its name with Chinese rivals.
China's trademarks office rejected applications by two Chinese businessmen to register the names 'Jabugo' and 'Hameng Jabugo' in 2006 and 2007 following a request from the Spanish embassy.
The episode, which came to light only recently, occurred during the period when Spain had begun exporting Jabugo ham to China amid fears that sooner or later it would be threatened by imitators.
Having got learnt of the bids to enter into competition with Jabugo ham, the Embassy contacted the Chinese trademarks office, calling for the applications to be withdrawn. It also advised the Regulatory Council for the Designation of Origin for Huelva Ham, which includes Jabugo, a variety held by connoisseurs to be Spain's best.
The Huelva council succeeded in convincing the Chinese trademarks' office that the Huelva designation of origin – recognised by the European Union – was "inseparable from the concept of Jabugo in the world of gastronomy."
The permits were refused and China acknowledged that Jabugo was a designation of origin for world-famous Iberico ham produced in Spain and exclusive to that D.O. It was ironic that the former Agriculture minister, Elena Espinosa, did not see this as clearly as China, claimed Jabugo sources.
The Administration had previously rejected a Jabugo designation and had not protected the brand internationally, despite repeated requests. That the ham had almost become a Chinese brand was a symptom of divisions within the sector, they said.
The Huelva Ham regulatory council, which backs changing the designation to Jabugo, welcomed the news that the Chinese initiative had failed.
However, Jabugo was not protected by one of the EU's most powerful mechanisms, it said, and unfortunately it was still necessary to defend Spain's gastronomic heritage from private interests abroad.
By Linda Hall