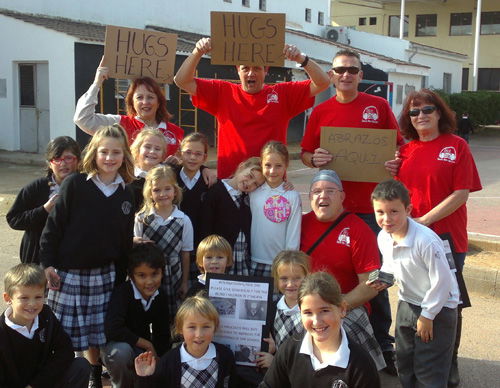 STUDENTS from the Baleares International College celebrated International Hug Day by selling hugs for charity.
The idea was dreamt up by Laura Penn from English Radio Mallorca who spotted the event on the internet.
"I saw it was International Hug Day on January 21st so I thought it would be a fabulous idea to get everyone to hug and raise money for a good cause at the same time." says Laura.
Members of the radio team joined sixth form students at B.I.C. to give away free hugs and also to "sell" hugs for donations to the NGO Mediterranea.
One of the radio team, Phil Bean, is traveling to Ethiopia on Thursday 26th January to help with Mediterranea´s "Dignifix Project".
He will be one of the volunteers helping to reform a school for blind children in Sebeta, 15 kilometres from the capital Addis Ababa. "The school has 340 students but there are only 280 beds" says Phil.
"Which means some of the blind kids have to sleep on the streets. You can only try to imagine what that is like. We will be helping to build a new dormitory so the children can sleep safely at night.
We will also be making the school safer for the pupils and staff and improving the sanitation."
The hugging event at B.I.C. raised €190 and was the latest in a series of fundraisers over the past few months that the ERM (English Radio Mallorca) team organised to help Phil to raise money to take with him to Ethiopia to buy building supplies and other necessary equipment.
Taking part in the hugging was Hugh Carville, Linda Ledwidge, Carole Upton, Hans Hagenou, Jon-Paul Bradshaw, Laura Penn and Phil Bean himself from the ERM team, plus Nicky Unger, Olvia Emerson, Harriet Piercy, Nicolai Kolrevic, Candice Percy and Danai Borsani and all the pupils from the B.I.C.