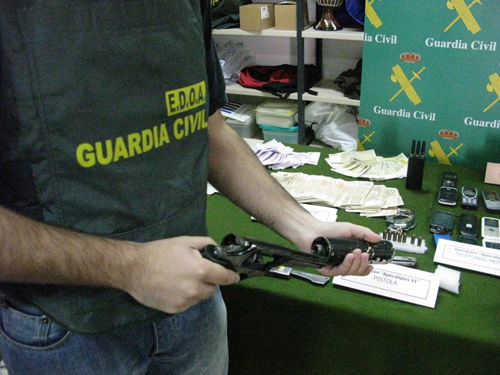 SEVEN of 14 people arrested recently for smuggling cocaine between Spain and Switzerland lived in Almeria.
The international gang was dismantled by the Guardia Civil who made arrests in Huercal de Almeria, Roquetas del Mar, El Ejido, and Tabernas.
The operation, codenamed Operacion Apocalipsis VI, commenced last April after police in Geneva arrested two men with 10.5 kilos of cocaine. Investigations revealed that "mules" were being paid to carry the cocaine between Spain and Switzerland, with a standby route via Costa Rica when the usual route was judged unsafe.
The drug was despatched ready for distribution at street level. Once the gang had been neutralised in Switzerland, the Guardia Civil was able to concentrate on deactivating the Spanish setup.
Their prime suspect was a man based in Huercal de Almeria with business links to a group of Nigerians who supplied the cocaine. This arrest led to six more in Almeria province and one in Valencia. As well as 14.1 kilos of cocaine, a search of nine homes in Almeria, Valencia, Geneva and Lucerne yielded €86,000, a gun with silencer, mobile phones and four vehicles – two of them upmarket models.
Also found were chemicals for processing and cutting the drug, plus a hydraulic press and moulds.