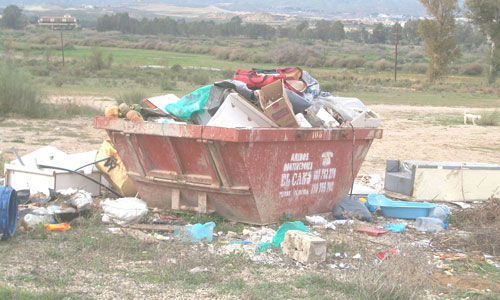 MY efforts are now well underway regarding so-called litter louts who are now being scrutinized in full by me for continually unloading their trash, amazingly some of it on main roads, in view of many passing motorists!
Last week I picked up literally scores of officially printed 'blue and white' leaflets and a few posters appertaining to the recent elections. And I also spotted a load of builder's rubbish which had been tipped onto the side of the road – quite some distance from where this company had been working in sand, cement and tiles.
I know of three blatant litter/trash dumpers right now – initials only at this stage to save them embarrassment JTS (Spaniard, Calle Lenador, Turre), AMMF (Spaniard, Los Morales, Turre), DPB (Brit, Calle Acacias, Mojacar) – and it will not be too difficult to see things through the courts with DNA, photographs and eyewitnesses all available.
Here's a clear message to litter louts everywhere, and indeed to those of you who simply want to live besides or on top of a tip: Do you want me to paste posters around the area, indicating WHO YOU ARE, or shall I arrange for a truck to deliver your rubbish/trash/waste back to you and leave on your doorstep?
It's your choice!
With the help of my wife and a couple are other locals, we are trying to make this area clean and respectable… why don't you help?
How about making an early New Year's resolution…. by agreeing to use the public rubbish bins and not to simply throw or toss your trash anywhere you choose. I'm willing to get my hands dirty – how about you?
By Tony Matthews Local litter tzar
[email protected]
IT'S A DISGRACE
My wife and I live near the Cementerio, Turre.
In 2009, after numerous denuncias, full skips were removed and the area cleaned up but this summer saw the return of a skip (from El Cano) and this photograph speaks for itself! Rubbish everywhere.
We can't believe that inconsiderate people simply drive past THREE official bins, all situated in the lay-by in front of the cementerio, to dump their rubbish here.
When the wind rages, you can picture the scene with paper and bags flying everywhere. This wasteland is also used as a car-park, annually, for 'All Saints Day' and this year we lost count of how many filthy nappies, food bags and empty bottles we picked up after the event.
We despair with humans sometime – this is a lovely place to live, so where is the 'respect' for your environment?
Two annoyed and rather disgruntled residents from Turre!