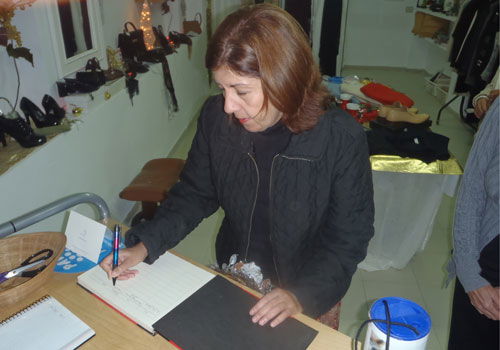 Mojacár's Mayoress, Rosa Maria Cano, performed the opening ceremony at the new PAWS Shop in the town.
Situated in The Multicentro across the road from The Parque Comercial, a large crowd was on hand to witness the event which included a champagne toast, mulled wine and nibbles that followed.
Speaking before she formally cut the ribbon she said the grant to Mojacar's animal charity of a 10-year lease was "a grain of sand in recognition of PAWS' work over 20 years to rid the town of stray and abandoned animals.
We hope it will help them to continue the work for another 20 years." The shop is stocked with the best of the clothes and accessories that PAWS has to offer, normally reserved for their fashion shows and it was nice to see The Mayoress making several impulse purchases.
It was a shame my wife did not attend as the till would surely have bulged more. More signage is required or at least some A- boards directing potential customers their way.
If it hadn't been for the large crowd I would have found it difficult to find but judging by the stock well worth the effort. Both the new shop, and the existing PAWS shop on Mojácar Playa near the Parador, will operate for a transitional period while a storage facility is fitted out near the new premises.
Initially it will only open for 3 days a week, Thursday, Fridays and Saturdays, from 10.30-13.30. It will take over as the sole PAWS shop early in the new year.
The shop has always been PAWS' main generator of funds needed to run the shelter at Los Gallardos. Last year it brought in nearly €80,000, according to the charity.
If anyone can help in that respect please contact Janet Franklin of PAWS on 629 252 292. www.paws-patas.org
By Richard Shanley