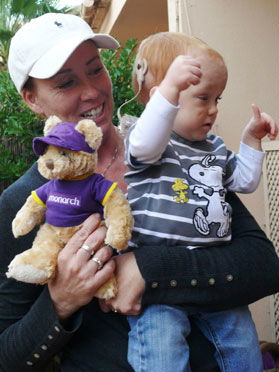 CHARLEY is just three years old was born prematurely weighing just 1.2 kilos.
He spent the first seven months of his life in intensive care. Subsequently Charley was diagnosed with CHARGE syndrome; he is partially sighted and now has a cochlear implant in his right ear.
Charley also has hormonal problems and a serious issue with his growth. Consultants at Son Espases in Palma have been trying to find out if any other child in the world has the same problems as Charley and how it can be treated.
Unfortunately they have struggled to find answers. Earlier this year Charley attended Great Ormond Street Hospital in London to see Professor Mehul Dattani who is a specialist in Paediatric Endocrinology and works with the type of problems that Charley has.
The great news is that GOSH and SON ESPASES here in Mallorca are now sharing Charley's care. These two hospitals are working together to treat Charley.
This means that Charley has to attend GOSH every 3 months for reviews and tests. Charley and his family received some wonderful news recently, the airline Monarch have offered to sponsor his flights to receive treatment at the Great Ormond Street Hospital in London in December and next March.
'When we got the news I was just bowled over,' said Debbie, Charley's mum, 'it means so much to us to have this support. Everyone has been amazing!' Charley, pictured here with his mum Debbie, is due to fly to London very soon to see his new consultant.
This has also been made financially possible by the website My Destination Mallorca and the local fundraising support of the Support Charley team of volunteers and friends here on the island.
You can find out more about Charley and how to help by searching Support Charley on Facebook or by visiting www.supportcharley.com
Keep an eye on the website and here in the Euro Weekly for news of fundraising events coming up soon.
Photo credit: Phoenix Media Mallorca