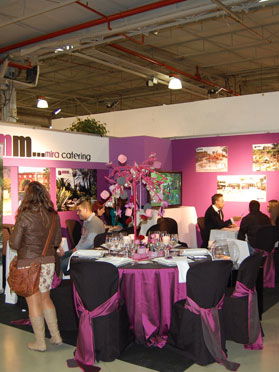 IF you are thinking of tying the knot in 2012, the place to have been last weekend was undoubtedly the FriaNovia Bridal show at the IFA in Alicante. Over the three days, more than 6,000 couples enjoyed the various Bridal Fashion shows and if packed aisles and an impossibly full car park are to be taken as indicators, it all bodes well for a return to more affluent times for the wedding and event industry next year.
While the show is unsurprisingly focused on the Spanish market, International couples that visited the show had the opportunity to also see a fabulous collection of classic cars, limousines, a disco party bus, flamenco shows, displays from many local wedding venues, dresses and tuxedos, photographers, honeymoons and dozens of ideas for gifts, cakes and everything to make for a perfect wedding day.
Don't despair too much if you missed the event, because over the past decade more and more English speaking wedding and event service suppliers have been relocating to the Costas and catering to the growing International Wedding market.
Although the global 'economic crisis' slowed down the market over the past three years, many suppliers have noted growth for next year and are already looking forward to 2012.
Eva Benito from CostaBlancaWeddings.com was one of the few International visitors to FiraNovios and said: "We already have had a number of enquiries and bookings for 2012 and 2013, as what could be referred to as 'Wedding Tourism' because the majority of those interested in a Costa Blanca Wedding come from the UK, Ireland or Scandinavia rather than those that live here."
For those that do live here but neither are Spanish citizens, as long at a least one of the betrothed has been on the Padron for at least two years, it's possible to have a legal wedding in Spain at any Town Hall.
This year, some local Town Halls introduced new ordinances to allow legal weddings within their territory La Zenia based wedding planner Louise Bradley paving the way (www.lyndylooinspain.com).
For those of the Roman Catholic faith, you are in the enviable position of not having to fulfil any residency requirements at all, as all legal matters can take place between your own Parish Priest and the chosen diocese in Spain.
Torrevieja also has both Norwegian and Swedish Churches and couples from these countries can be married legally in Spain without any problem or residency requirements.
Norwegians can be married in the La Siesta based Church while the Swedish have one of the best options available. Nick Knight from photovideospain.com explained: "The fact that Torrevieja has both a Swedish Consulate and officially recognised Swedish Church, means that Swedes can have a legal ceremony in Torrevieja any day of the year!
The best part being that the ceremony can take place outdoors in such beautiful settings as Torre del Morro or one of the small coves along the Torrevieja Coast Line, and from our point of view, this means more beautiful photos, with blue skies and scenery, than we could achieve in their church."
The Torrevieja Town Hall are also looking into changing local ordinances to allow legal civil weddings to take place in such beauty spots as Torre del Morro, the Pascual Flores and Eras de la Sal, as a Wedding Tourism Initiative brought to them through Photo Video Spain.
Nick Knight continued "we receive regular requests from couples to have their ceremony in a local beauty spot. As it stands at the moment, one can only have a symbolic union, just for the cameras and guests, but hopefully in 2012 this will change and open up a new attraction to promote International Weddings in Torrevieja."
By Keith Nicol
[email protected]