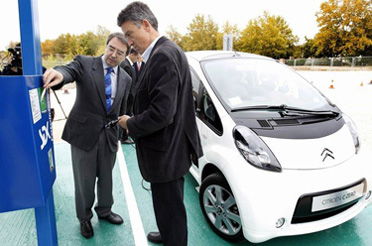 SPAIN has its first solar-powered service station for electric cars in Alcala de Henares.
Roof-mounted solar panels in the Juan Carlos I botanical gardens at the University of Alcala de Henares (Madrid) provide power for the charging points which, for the time being, is free of charge.
Named "fotolinera", the system was a logical addition to the growing demand for electric cars using sustainable energy, claimed one of its creators, engineer Oscar Suarez Ayala.
It was logical, he said, because if electricity for cars came from power stations less carbon dioxide would be released in cities but pollution levels would rise where it was produced. Using solar power made electric cars a genuinely eco-friendly option, he pointed out, because "fotolinera" meant more than simple charging points and was a source of clean energy.
Each of the points at the Alcala service station has a mobile phone "app" which informs users how long charging takes and when their car will be ready. Regarding the important question of how long it took to charge an electric car, Suarez Ayala explained that this depended on the battery's storage capacity.
"A Renault Twizy totally recharges in three-and-a-half hours, but a vehicle with only a standard-capacity battery could need between six and eight hours."
This would change as solar recharging became more popular, he said, predicting that this would happen sooner than later. "We have already had many enquiries," he added.
Photo credit: Citroen