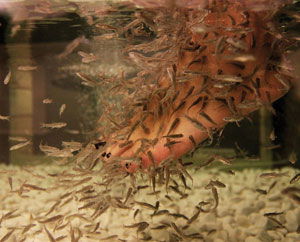 FISH SPA owners reacted with anger at tabloid news that the treatment risks clients contracting Hepatitis and HIV. Garra Rufa fish are used in these spa treatments, which have gained worldwide popularity since 2006.
The report by the Health Protection Agency (HPA) sets out good practice for spas that offer the service, but did acknowledge that there is an "extremely low" risk that infections and bacteria could be transmitted if someone has a weakened immune system.
The risk of blood infected with HIV and hepatitis getting into an open wound on another person using the same tank would be minimised due to factors including the diluting action of the water, the report stated.
"Surely this is common knowledge and not a risk aimed solely at fish spa's, but also water park's, communal swimming pools, etc," Seb Mason, of the Natural Fish Spa in Javea (Alicante) told EWN.
As of spring 2011 there were 279 fish spa's in operation in Britain, according to the HPA, although there are likely to be many more.
"Out of the thousands of fish therapy spa's worldwide with millions of people using the treatment, there has not been one single reported case of any infection ever being passed through using fish therapy," he said.
The Sun's front page article "sensationalized" the report, "blowing it out of proportion," said Mason. "Probably half the fish spa's in the UK were put out of business overnight following this report."
Meanwhile, Serran of Derma Fish in Fuengirola said "Like other spas, our tanks are cleaned daily, we use clean water and germicidal pumps that filter and clean the water to ensure perfect clarity, while strong UV light kills any bacteria."
"Garra Rufa fish have been used to treat skin conditions in Turkey for more than a Century, with no adverse effects, only beneficial ones," Serran added.
"Even the photo used to illustrate the article used the wrong fish. Instead of the toothless Garra Rufa fish, it shows a Chinese species called Chin-Chin, which have teeth when they are mature," she said.
Consultant epidemiologist Dr Hilary Kirkbridge of the HPA said: "Provided that good standards of hygiene are followed by salons, members of the public are unlikely to get an infection from a fish spa, however, the risk will be higher for certain people."
The NHS said: "While the report did acknowledge that the risk of infections could not be completely ruled out, it is important to view this in context and not be reeled in by fishy headlines."
HPA recommendations
People who should not have fish pedicures include those:
With diabetes or compromised immune systems.
Have had their legs waxed or shaved in the previous 24-hours.
Have any open cuts, wounds, abrasions or broken skin on the feet or lower legs.
Have an infection on the feet, including athelets's foot or a verruca.
Have psoriasis, eczema or dermatitis on feet or lower legs.
Are diabetic.
Have a blood-borne virus including hepatitis B, hepatitis C or HIV.
Have an immune deficiency due to illness of medication.
Have bleeding disorders or take medication to stop blood from clotting.
Safety procedures for fish spas:
Information on any potential risks should be given to clients.
Client's feet should be examined before and after treatment to ensure they are free from cuts and infections and a log of these checks made.
Feet should be washed and rinsed before treatment.
If any evidence that bleeding occurred during a session, the tank should be drained and cleaned and the fish not used for 48-hours.
By Nicole Hallett