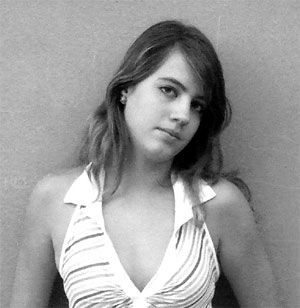 FRANCISCO JAVIER GARCIA MARIN – known to his friends as El Cuco – was recently cleared of participating in the rape and murder of Marta del Castillo in January 2009.
Now over 18, he is serving a 35-month sentence in a young people's secure unit for covering up for his friend, Miguel Carcaño, who admitted killing Marta.
El Cuco's mother, Rosalia, appeared on Telecinco programme, La Noria and, with her back always to the camera, told Jordi Gonzalez that he was always home by 9.15pm during the week and 11.15pm at weekends.
That did not prevent him from involvement in the killing of Marta del Castillo, whose body was never found.
El Cuco, Carcaño and his accomplice Samuel Benitez later claimed they did not know where she was taken and neither did she, Rosalia declared.
If her son did know she was certain that he would have told by now, she said.
"He was never out of control. He's a good boy," said Rosalia Garcia of her son, El Cuco.
There was no hard proof of his part in Marta's disappearance and although he admitted involvement when he was first questioned, this was because he was pressured and manipulated by the police, the mother insisted.
Rosalia Garcia, who received €9,000 for the television appearance, also claimed that her life had become "hell." People pointed her out in the street and insulted her and there was now a petition for her to leave the neighbourhood.
She lived in a constant state of panic and constantly received calls to her mobile phone. "I don't know who they come from; I don't know if it's from people close to Miguel Carcaño or Samuel Benitez. I only know they that they call and say it's time to tell what I know."