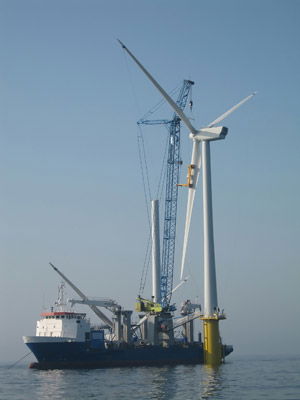 SPAIN'S shipyards, which provide direct and indirect employment for 20,000 workers, have been hard hit by the recession.
There is one state shipbuilding firm in Spain – Navantia – and 24 private companies but in the first six months of the year, only Gondan has received an order.
Making matters worse, last June the European Commission suspended the tax lease system's 30 per cent allowance for ship-owners who order new vessels, describing it as "illegal state aid."
Spain is now trying to persuade Brussels to approve a 21 per cent provisional allowance. "This would reactivate demand and new operations are already underway in the Vigo estuary," said Jose Luis Gacio of the MCA-UGT trade union.
But another type of help could be at hand and Spain's shipbuilders are looking towards offshore windfarms requiring specialised vessels that the sector is well-equipped to supply.
"Building the craft needed for servicing the turbines would be an excellent opportunity for Spanish yards," said Victor Rey, head of Iberdrola's offshore technical division.
Javier Perea, director general of the Gamesa, one of the most important companies in the wind turbine sector, agreed that Spain could have a part to play.
Navantia has already reached an agreement with sector giant Acciona to exploit the wind-energy market and develop ships to install and maintain offshore wind turbines, said Navantia's managing director Luis Cacho.
Between 15 and 20 highly specialised ships are needed to install an offshore windfarm. They cost more than €100 million each, while a maintenance vessel would be more than €50 million, according to Juan Riva president of ECSA, the European shipowners' association.
Better still for Spain's shipyards the offshore wind-energy is market scheduled to burgeon by 2016 and demand for these vessels outstrips supply.
Work would have to begin by 2013 and the country's 24 companies are already looking hopefully ahead.