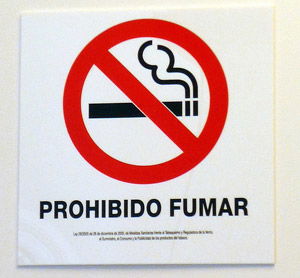 SO far this year, consumer group FACUA has received 38 complaints regarding infringement of the anti-smoking law in Almeria alone.
There are passed on to the Junta de Andalucia.
In the whole of Spain, there have been 2,568 complaints since January 2 when the law came into effect, with the worst offenders being Madrid with 496 and Andalucia with 465.
In Andalucia, the province with the most complaints has been Malaga, with 99.
Complaints can be registered with FACUA via their website www.facua.org/leydeltabaco
The group hopes that companies which have been reported will be encouraged to obey the law to protect the health of their staff and clients, so that by the time the regions carry out inspections they have ceased to break the law and they will not be fined.
Photo credit: xornalcerto