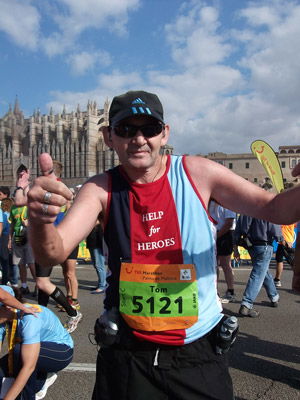 LOCAL man, Tom Hughes, from Calvia, raised €600, with more to follow, for Help for Heroes, by completing the 22km TUI Half Marathon in Palma.
After giving up cigarettes in April this year, he started running to get fit, and decided to set a goal to run the Tui Half Marathon, his first ever race, setting his personal target at finishing in 100 minutes.
However he achieved 135 minutes, which was amazing for a first attempt, and also as he had to work until 2am the night before!
His next effort will be the Calvia half marathon on December 11, and there are also plans for a charity evening of entertainment in Rositas Bar in Calvia village, in the very near future.
Help for Heroes is an independent British charity founded by Bryn and Emma Parry in October 2007 out of a desire to help members of the Armed Forces who have been injured in the course of serving their country.
Patrons of the Charity include Ross Kemp, Monty Halls, James Blunt, Ken Hames and many others, as well as Founder Patrons Jeremy and Francie Clarkson