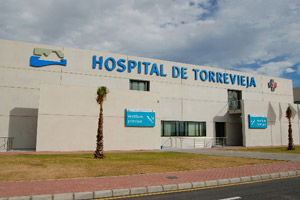 MICROSOFT chose Torrevieja as their world headquarters to develop the 'Florence' system of health management and diagnostics and that partnership is slowing starting to show dividends.
Last week in Chile, 'Florence' was chosen as the most appropriate technological solution for the integration of care that ensures communication and information with patients and professional organization alike, while managing health care excellence.
The project started in Torrevieja, can be found in both Elche and Madrid and has been implemented in nine hospitals in Chile, with plans that could see the system extended to a total of 45 hospitals in the near future.
The comprehensive technology management system 'Florence', which was created by Microsoft software engineers and is considered one of the most advanced systems in the public health sector.
The system stores and correlates all the information generated while a patient is in care: tests, interventions, consultations, medication, hospitalization and emergencies, in addition to displaying parameters derived from analysis of the clinical documentation: the waiting time, appointments, average stay and interventions plus issues of interest to users, the waiting time for treatment in emergency or situation of a hospitalized patient, among others.
General Manager of the Grupo Ribera Salud, Alberto Rosa said "our health model of public-private partnership uses the Florence technology as one of the basic pillars to achieve our goal of quality care with maximum efficiency." Rose added, "Florence can speed up processes, resources and increase professional and patient satisfaction, so it comes as a strategic partner in health care management to improve internal processes."
The first Hospitals to implement this program were the Vinalopó Hospital in Elche, the newly opened Torrejon de Ardoz Hospital in Madrid, the originator, the Hospital of Torrevieja plus the nine hospitals in Chile.
Enrique Cacicedo, Director of Systems at Torrevieja, Vinalopo and Torrejón explained "the patient is offered services such as appointments via sms avoiding the queues at counters or information desks while families and health professionals receive warnings if certain services are being compromised or their quality levels." "Florence is in continuous monitoring mode, which reduces delays and improves response times."
By Keith Nicol