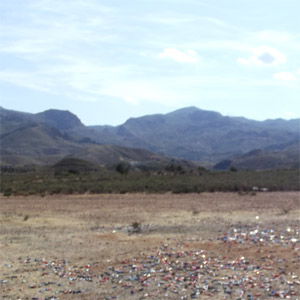 MY next litter report will be in four weeks as I am going to monitor the previously named 'dumping' areas in Turre and Mojacar, along with those in San Juan, Villaricos, Los Gallardos and parts of Vera and Garrucha and give you all an up-date in mid-November.
Following the recent Turre Fiesta, most of the town was immediately cleared up by a designated band of what the Brits call refuse collectors. And a wonderful job they did too. Well done.
However, on the town's perimeter roads, scattered over certain areas of wasteland, rubbish was left everywhere, including at least 1,000 (yes that many) empty cartridges following a clay pigeon shoot organised by the Club de Trio de Turre.
My wife and I spent two hours clearing up this site which also included over 200 beers cans, 60 or so empty plastic water bottles and scores of small cardboard cartridge boxes. What's the matter with people – SIX public litter bins were just 100 yards or so away!
Driving home last Friday, between the two road bridges on the way to Cabrera from Turre, my wife and I spotted, dumped on the side of the road – just five yards from a refuge bin – heaps of rubbish.
Unable to drive onto wasteland (due to the amount of rubbish) we parked on the road itself, leaving ample room for other vehicles (up to the size of lorry) to pass by comfortably. However, one woman, probably from Cabrera came along and moaned about parking on the road, saying "What are you doing, that's not your job and you shouldn't stop here!" I was parked for two minutes – that's how long it took us to clean up.
I'd like to thank everyone who is backing my litter campaign. Like you, I want the area of Mojacar, Turre, Garrucha, Vera etc. to be one of the cleanest litter-free zones in Spain… why not!
By Tony Matthews, self-appointed litter czar
[email protected]