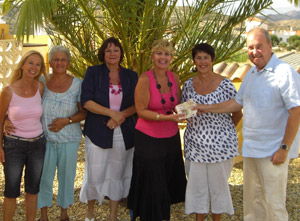 LEN and Joan Naish of The Friends of Limaria presented F.A.C.E. President Adele Wrigglesworth with a €700 donation at a presentation ceremony held recently.
The Friends of Limaria started a few years ago and consists of friends and neighbours from Limaria and the surrounding areas.
Adele was delighted to receive the gift and said "It is amazing that in this difficult financial period, so many people and organisations are still willing to dig deeply in to their pockets to aid people who are less fortunate."
F.A.C.E. Will be continuing its Fund Raising with A Christmas Market on Friday 2nd December.
Photo credit: Kevin Wrigglesworth