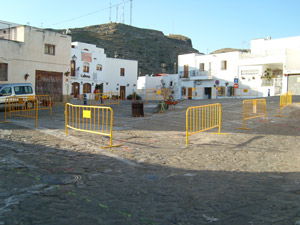 WORKS for the highly controversial Mojacar Village underground car park did not start on Monday, as town hall sources had originally said.
Although it seems it will only be a matter of days before works start, as the area has been cordoned off and construction equipment spotted, at the time of going to press, work had not yet started.
The €1 million project to create 37 residents-only parking space has been the subject of heavy criticism from local residents, opposition parties and environmentalist groups. The town hall believes it is a necessary step to alleviate the village's parking problems and to stop it becoming a ghost town.
Some of the various groups against the project want the village to be pedestrianized, while others say that the project is misuse of public funds, and could be catastrophic to the local economy if not finished in time for Summer.
Environmentalists warn of possible damage to archaeological remains they believe are likely to exist at the site of the new car park.