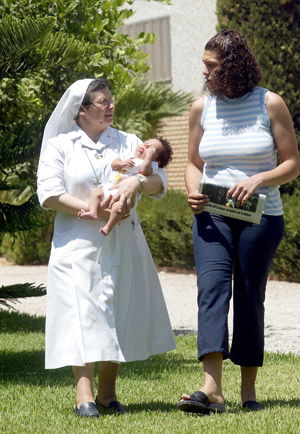 AURORA GALLEGO, who recently received a Valencia City '9 d'Octubre' award, denied involvement in the "stolen babies" scandal.
Sister Aurora, director of the Santa Isabel Babies' Home in Valencia, was being made to pay for many things "which had nothing to do with her real role," she told the Press.
All adoptions at the Santa Isabel home complied with the law, she insisted, in an oblique reference to cases of irregular adoptions that have emerged throughout Spain.
Single mothers and women from modest backgrounds have since found that babies they believed had died at birth in the 1960s, 70s and 80s were in fact taken from them.
They were then illegally adopted by childless couples after large sums of money had changed hands.
When candidates for this year's '9 d'Octubre' awards were discussed by the city council last July, the Compromis group – a coalition of IU socialists, Greens and nationalists parties – objected to Sister Aurora's inclusion.
There had been hundreds of official complaints regarding irregular adoptions and some of them involved the Santa Isabel home, objected Compromis councillor Pilar Soriano.
Nevertheless, Sor Aurora's nomination was approved by the PP conservatives and PSOE socialists. She received the prize and freedom of Valencia City during celebrations marking Valencian Community Day on October 9, although no Compromis councillor attended the event.
Waiting outside during the awards ceremony were two women protesters investigating the true circumstances of their allegedly stillborn babies. "SOS Stolen Babies' proclaimed their t-shirts.
Speaking afterwards, Aurora Gallega maintained that women were lucky to have the Santa Isabel home to turn to at a time when there were no social services. They had been able to leave their children for adoption, knowing they would find good homes, she said.