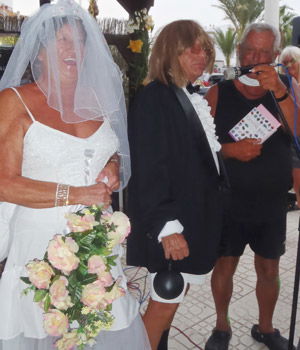 BOB and Sue Fletcher comically renewed their vows during their 50th Wedding anniversary held at The Blue Parrot on Vera playa last Friday night.
One hundred and fifty were invited to a party that can only be described as superb and surreal in equal measure.
Both dressed in full wedding outfits the renewal of vows were hysterical as were the speeches from friends and family.
Inpromtu singers, the funniest wedding cake I have ever seen and The Blue Parrot certainly came up trumps with the food. Local band Los Gringos gave a rapturous performance.
By Richard Shanley