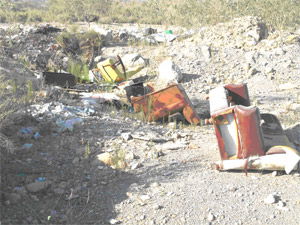 DESPITE a lot of clearing up in and around the Turre-Mojacar area over the last week or so, people – and they must be local – are still dumping rubbish, wherever they choose.
Recently, on an initial drive from Cabrera into Turre, over the first bridge, the area surrounding an official empty trash bin was completely clear. We had cleared it three days previous.
Great we thought… at last people are beginning to respect the beautiful countryside.
However, on our return home, less than two hours later, having taken the same route, some kind-hearted folk had dumped a black plastic bag full of rubbish, tossed a purple one over the edge of the hillside into the nearby ravine and let loose paper fly all over the place – and still that public refuse bin was virtually empty.
What's the matter with these folk?
By Tony Matthews
[email protected]