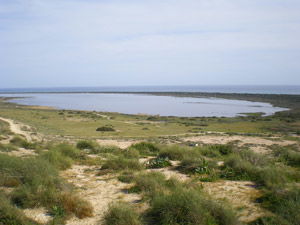 FOUR years have passed since plans for a visitors' centre at Punta Entinas were announced but the project has not yet gone ahead.
The visitors' centre in the Punta Entinas-Sabinar Natural Park between San Agustin in El Ejido and Roquetas de Mar, is expected to be a tourist attraction for the area.
However, red tape and lack on funding has prevented it from going ahead, although the park management hopes that plans to convert the Principe Alfonso XII military barracks into an area for people to study and get to know the environment will see the light soon.
The aim is to create a car park, a library and a seed bank of local plant species, as well as to show a model of the 1,900-hectare park, and the 800-hectare nature reserve which has already been made.
The project also plans for a viewpoint from which visitors can enjoy the local flora and fauna.
The Junta de Andalucia Environmental Council has provided the land to the Provincial Government for the project to go ahead, although it is only a verbal agreement because it is not theirs to give, and depends on the General Coastal Department and the Environmental Ministry.
Plus, the park management is still looking for funding to carry out the project, estimated at €1.39 million, but none has been forthcoming. They plan to meet with the Mayor of El Ejido, Francisco Gongora, to discuss the matter, as the town hall has said it wishes to boost the project which will attract tourists.
Photo credit: ANE