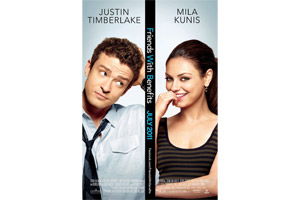 Dylan (Justin Timberlake) and Jamie (Mila Kunis) think it's going to be easy to add the simple act of sex to their friendship, despite what Hollywood romantic comedies would have them believe.
They soon discover, however, that getting physical really does always lead to complications.
They get along really well and have many things in common. They're both good looking and the sex is great.
So as both have been burned, once too often, by relationships, they decide to protect themselves from that happening again by agreeing to 'friends with benefits'.
The film is full of references to Hollywood romcoms, but ends up being one itself. However, this one is not cheesy, it's a lot of fun, and although it's quite predictable, it's well carried-out, has plenty of references to modern culture and excellent dialogue which is racy without going too far.
The leading characters are supported by Dylan's gay colleague at GQ Magazine (Woody Harrelson) and their respective parents. Jamie's mother, (Patricia Clarkson), is a hippie with vague memories of the Middle Eastern chap who impregnated her; while Dylan's dad (Richard Jenkins) suffers from Alzheimer's and has forgotten that his wife left him a decade ago.
Director Will Gluck, who said he conceived the film with the two main actors in mind commented: Gluck: "People keep comparing 'Friends with Benefits' to 'No Strings Attached' but it's not the second movie about the same thing. It's the ten-thousandth movie. This is just about a boy and a girl getting together, and falling in love."
Film review by Gabrielle Devon