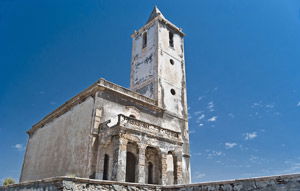 ALMERIA Bishopric plans to build churches in the Vega de Aca and El Puche areas of Almeria city, as well as in Adra, and in the Mojacar Playa area.
The two in Adra, in La Curvas and Los Pescadores districts, are currently under way, but there are also many other projects which have been in the pipeline for some time but which haven't yet been carried out or completed because of the lack of money to finance them, the vicar in charge of construction works, Miguel Romera, said.
Those in Adra are being carried out in phases and there is still no estimated date for when they will be completed.
In the Aguadulce area, there is a project for a church which will be called Iglesia de la Preciosisima Sangre, which is soon to be approved, while studies are being carried out in the Mojacar Playa area to check the possibility of constructing a church there too.
The two churches planned for Almeria city are also at the same stage, and for now, they are just an idea, on for El Puche and the other for La Vega de Aca, which is an expanding area where there is currently no Catholic church.
The Vega de Aca area is expected to have the largest concentration of population in the whole of Almeria city within a few years.
Not only is the Bishopric making new churches, but also restoring existing churches, hermitages and chapels, such as the one in Las Salinas in Cabo de Gata which could be completed within days thanks to an investment of €400,000.
By Jennifer Leighfield