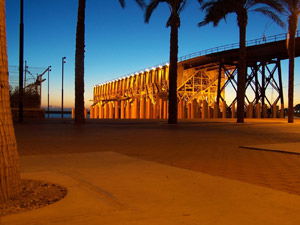 A DUTCH company has bought the rights to run the Alquife Mines in Granada, which could mean that Carboneras Port is once again used for export and shipment.
The Dutch company 'Minas de Alquife Holding', is run by a German family, and has purchased 92 per cent of the operating rights from the old miners, and is currently holding talks to acquire the remaining eight per cent.
The mines, which during the 19th and 20th century were the main producer and exporter of iron in Spain, were closed in 1996.
The company's aim is to extract iron once again within four years, although when they start will depend on how long it takes to get the licenses from the authorities.
They estimate that they will give work to between 200 and 300 people as well as creating up to 1,000 indirect jobs for people in the area, especially those who formerly worked in the mines and are still of working age.
The manager of the project, Geologist Luis Carlos Perez Garcia, said that the aim was to keep them open for at least 20 years, producing four million tonnes of iron minerals every year, which would be used in the steel industry. The mineral is eight times more valuable now than it was when the mine closed in 1996.
The mines initially exported from Almeria city via the Cable Ingles loading bay which was completed in 1904, and later via the underground Cable Frances tunnels. Carboneras Port Authorities are already holding talks with companies which may be interested in taking part in the exports.
Photo credit: David Caparros Lorenzo
By Jennifer Leighfield