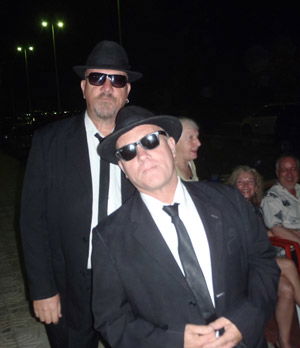 OPPOSITES attract and that's official. This statement was proved last weekend on Vera Playa when The Blues Brothers played in a joint collaboration between Frankie Bar and El Balconcito and Nothing Like The Original played their final ever gig (Graham the lead guitarist and singer is moving to France) at The Blue Parrot some 150 metres away.
Originally an oversight by the three bars as they never want to compete against each other, the evening proved this theory a fallacy. All three venues were packed to the gunnel's.
In Mojacar I know that The Beachcomber and The Irish Rover have adopted a similar policy of not hosting events on the same night which judging by this weekends vents on Vera Playa may have to be rethought.
One thing that this current economic crisis has shown us is that we have to all work together as borne out by the increase in membership of ACEM the Mojacar Business Association.
Gone are the days where businesses can open their doors, take money and put their fingers up to the opposition. If we want to make the area thrive, joint enterprise, shared ideas and collaboration are the order of the day.
By Richard Shanley