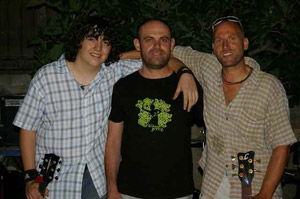 MOJACAR'S Animal Rescue Charity PAWS is venturing into the rock business.
The PAWS AID Concert, at Mojácar's Artisan Centre this Saturday September 24, , is a seven-hour extravaganza aimed at raising funds for animal rescue work.
It will be the biggest single event which PAWS has mounted in its 21-year history.
With music ranging from solo acoustic to full-bore rock, the event will be in two separate sessions with separate tickets – €5 for each session, on sale from the end of August. As a special offer, both sessions will available for a combined price of 8€. The first half, from , will be predominantly lighter in tone, although there may be a few rock numbers. After a half-hour interval, the second session will be more rock-oriented, building to a rousing climax.
The event has already attracted television interest, with both Canal Sur and Onda 7 promising coverage. Both sessions will be broadcast live by Bay Radio (91.5/95.5 FM). The genial Master of Ceremonies on stage (in English and Spanish) will be José Luis Cano, who needs no introduction to Mojácar audiences!
Headline bands include Los Gringos, Los Mezcaleros, Histeria and Pedro Flemingo (formerly Spectrum) and there will be dance acts between the music, including the Alison Jones Zumba Group, Fatima (Mojácar's star belly-dancer) and 'The Three Degrees' … and no, they aren't the original American Soul Trio but a comedy drag act.
Mojacar Town Hall has thrown its support fully behind the event. There will be food and a bar available.
Parking has been provided next to the petrol station on the hill, and busses will be on hand to bring people to the centre at the beginning of each session, and deliver them back at the end.
A full list of ticket sales points can be found at www.paws-patas.org but they are available in several locations in Mojácar, Turre, Las Buganvillas and Arboleas.
"It is essentially a PAWS fundraiser," said PAWS spokesman Mike Dornan, "but we hope it will stand as a full-blown, multi-cultural event in itself. We have Spanish, English, American, Dutch, Belgian and German musicians taking part. There should be something for everyone to enjoy!"