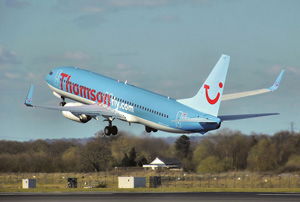 A BRITISH man onboard a flight from Palma de Mallorca to Newcastle allegedly tried to open the emergency door of the plane 45-mintues after take-off.
The 22-year-old was restrained by Thomson Airways cabin crew. "He behaved in an aggressive manner towards other passengers," said the airline. As a result of the disturbance the pilot chose to make an emergency landing at London Gatwick airport were the man was arrested.
The flight then continued its journey to Newcastle where it arrived three hours later, according to police sources. "We would like to reassure passengers that it is not possible for passengers to open the door while the plane is in flight due to cabin pressure."
"An incident of this nature is extremely rare and security is our priority." Nobody was injured and no weapons were used during the incident, a spokesman for Sussex Police confirmed. A female passenger suffered a panic attack during the incident.
The young man from Northumberland County repeatedly shouted "its okay, we are only in a flight simulator," according to witnesses. "The plane began to move and I though we were going to plummet," said one passenger. "Friends of the man tried to grab him, but failed.
Then suddenly somebody appeared out of nowhere and hit him on the head. As soon as the plane landed, six police officers came onboard and arrested him." "I was terrified, but the cabin crew behaved like a charm," said another passenger. "The pilot told me that in 20-years in the profession, he had never seen anything like it."