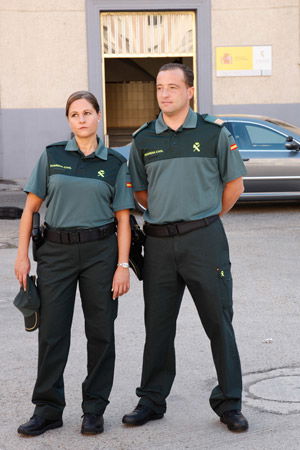 THE Guardia Civil in 23 areas of Spain have new, more modern uniforms. The General Director of the Police and the Guardia Civil, Francisco Javier Velazquez, presented the new uniforms, which maintain the same green colour scheme.
Most offices will wear the uniforms specially designed for police work, whereas some units, such as bomb disposal, traffic, nature protection and others, will have other uniforms adapted to their needs.
The new uniforms, which will cost €21.5m in total, will last longer than those that have been used in recent years.
During the first phase, officers in A Coruña, Alicante, Gijon, Oviedo, Badajoz, Baleares, Barcelona, Caceres, Cantabria, Ciudad Real, Granada, Huesca, La Rioja, Leon, Madrid, Murcia, Navarra, Pontevedra, Sevilla, Toledo, Valencia, Vizcaya and Zaragoza will begin to use the new uniforms, which will be gradually introduced in other areas between now and the end of next year.
The old uniforms, with the famous 'three-cornered hat' or 'tricornio' will only be used for certain official acts, public buildings and other specific uses.