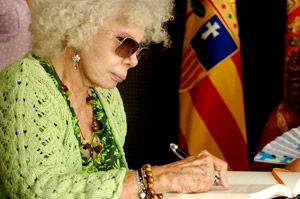 SPAIN'S 85-year-old Duchess of Alba – possibly the richest woman in Spain – clearly believes that love is worth more than money.
The saga of Cayetana Fitz-James Stuart's love affair with a 60-year-old civil servant, Alfonso Diez, confirms that the course of true love never did run smooth and her path was cleared only by splitting her considerable fortune between her six children.
The soap opera ingredients have been analysed worldwide. In the United States although CNN reported that not only the Duchess's offspring but also King Juan Carlos opposed the match, Time described her as "the woman who gets what she wants."
Far away in Kenya, KBC speculated on a Thailand honeymoon for the happy couple. Some of the Duchess's hereditary privileges were denied even to the Spanish monarch, explained the broadcaster, as she is the only member of the Catholic Church not obliged to kneel before the Pope. She can also, should she so wish, enter Sevilla cathedral on horseback, it added.
The Duchess, who is directly descended from the same Cayetana who posed for Goya's painting La Maja and – possibly – La Maja Unclothed, is distantly related both to Queen Elizabeth, the late Princess of Wales, Diana Spencer, and Winston Churchill.
Her first marriage was to the Duke of Sotomayor, the father of her six children, who died in 1972. The celebrations surrounding their 1947 wedding were so opulent and extravagant they quite overshadowed the marriage of the then Princess Elizabeth to Philip Mountbatten, according to The Times.
The Duchess's second husband, the writer and former Jesuit priest Jesus Aguirre in 1978, whom she married in 1978 was 11 years her junior and they were happily married until his death in 2001. The wedding caused a predictable scandal, not least because Aguirre was illegitimate, although well-born.
Now it is the turn of Alfonso Diez, who on October 5 will become the consort of Maria del Rosario Cayetana Alfonsa Victoria Eugenia Francisca Fitz-James Stuart y de Silva – the woman who always gets what she wants.
Photo credit: aragoneame.com