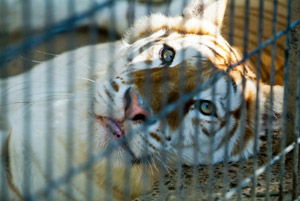 SPANISH zoos ill-treated animals, claimed international animal rights group Animal Equality.
The animals' living conditions were not good and the group called for eight zoos, including those of Madrid and Barcelona, to be shut down.
In contrast to earlier occasions, the group lodged formal complaints as a result of their investigations. In the past, they had limited action to releasing photographs to the media as had happened with mink farms and pig-raising plants, explained Animal Equality's Sharon Nuñez.
Named and shamed were zoos in Madrid, Barcelona, Castellar (Jaen), Cordoba, and Guillena (Sevilla), together with Zoobotanico in Jerez and Bioparc and Rio Safari in the Valencian Community.
"We did not score them but conditions at Madrid Zoo were very bad indeed," Nuñez said.
Self-harming and violent behaviour amongst the animals were among situations denounced by Animal Equality. This, she claimed, was the result of stress caused by confinement in small spaces not adapted to their needs.
"We can't allow animals to be used as mere entertainment," argued Nuñez who also complained about visitors throwing objects into cages or, when animals were kept behind glass, banging on windows.
Ill-treatment by employees ranged from rough handling to obliging the animals to perform. Dolphins were frequently seen with grazed heads "probably as a result of trainers standing on them during training and performances."
Animal Equality footage also showed the suffering and death of a lioness when zoo refused to go to the expense of paying a vet to treat her.
Zoos served no educational purpose, according to Animal Equality. "The conduct of zoo animals is typical of animals in captivity and conveys little to children. Very much to the contrary, zoos distort their image."