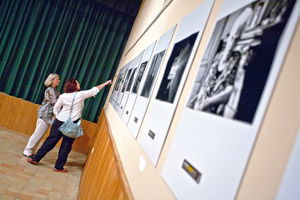 THE Jazz Foto event which was held last week in S'Arraco was a great success, organisers said.
Three jazz bands played outside around the village and there were 8 different venues – including bars, shops and restaurants – showing photography and art.
The major exhibition shown at the village's theatre was for the competition entrants of the 'Foto Marathon'.
The winners of the competition were Bernabe Sanchis, Irene Sola, Mary Antonia Dominguez. This event was sponsored by the camera shop Foto Ruano. 'I'm really pleased,' said organiser Patrick Palmer, 'we will definately do the event again next year, bigger and better!'
The exhibition at the S'Arraco theatre is open 12 – 2 on the weekends, and in the week it will be open . The other exhibitions continue until the end of the month.