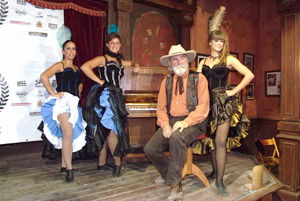 TABERNAS desert returned to its former Spaghetti Western glory last weekend.
The inaugural Almeria Western Film Festival which presented a selection of western films around the world was hailed a hit by event organisers Danny Garcia and Cesar Mendez.
'Aballay, the man without fear', was the winning film, directed by Fernando Spiner from Argentina. The award-giving took place at Fort Bravo with all the actors invited to the festival held September 8-11. The Audience Choice Award went to 'The Warrior's Way' directed by South Korean director Sngmoo Lee.
Actors Eduardo Fajardo, Antonio Pica, Saturno Cerra, Frank Braña, Craig Hill, Fabio Testi, Dan Van Huse and Nicoletta Machiavelli were also awarded for their contribution to the Western genre.
Author Carlos Aguilar, and directors Rafael Romero Marchent and Eugenio Martin were also awarded.
The widow of actor Madrid born-Aldo Sambrell – a renown Spaghetti Western 'bad guy' in the 60s and 70s – received a posthumous award in his name and his ashes were spread at Fort Bravo by three horsemen.
His wife said "Aldo wanted to die in Almeria on a horse. He loved the Almeria desert. That's why I want to respect his decision and the horsemen will spread his ashes in this land he loved so much".
Meanwhile, German actor Dan Van Husen – who performed in 23 Italian Westerns – said he was "touched" to be taking part in the festival. Spanish actor Frank Braña said it was "marvellous to be at a festival like this".
He added "I was born in the Almeria Western and my son was born here 49 years ago. I hope the authorities and institutions make a thing of this. We have been as great as the Americans in the world of Westerns".
By Jennifer Leighfield