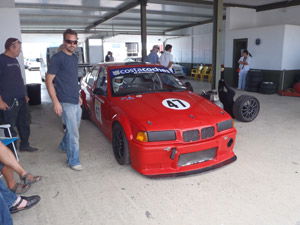 THE latest round of the Andalucian Touring Car Championship was held at The Circuit of Almeria just outside Sorbas (only a half hour drive from Mojacar).
Promoted on Spectrum FM the circuit had one of the highest attendance levels of the year and the crowd were treated to a superb day of motor racing with a plethora of motor manufacturers represented in the feature races.
Local interest was ignited by businessman Dave Hardwick of Costa Coches who was racing a BMW M3 in the historic series. A superb qualifying lap saw him in 3rd place on the grid overall and 1st in the class which combined with a blindingly fast start saw him leading on the first lap of the first race.
He was eventually overtaken by a Porsche 993 and the eventual winner of the race Carlos Rodriguez who at only 16 years old does not even have a licence to drive on public roads.
He is an incredible young talent and the Seat Leon Cup car that he drives seems to dance whilst he is at the wheel. This boy will go far, watch out for him in the future. Dave finished 3rd overall in both feature races which was a great result and he was streets ahead of his rivals in the historic series.
All in all a great day out was had by all and The Circuit of Almeria is a great track. I have been to many race tracks throughout Europe and this has one of the best viewing areas I have ever come across. From the vast area above the pits you can see almost all of the track. Simply superb and I am already looking forward to the next race from there.
by Richard Shanley