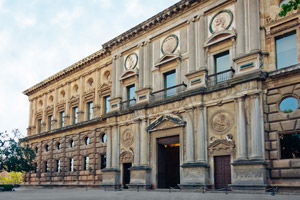 A JORDANIAN soldier has been charged with a crime against national heritage after he was caught engraving his name on a wall at the Alhambra.
The 36-year-old, who was part of a delegation sent to Sevilla by his government to buy a military plane, decided to visit the Alhambra during his trip.
He was caught by a group of tourists engraving his name with a sharp object on one of the walls of the Palace of Carlos V. They alerted security, and he was later arrested by the National Police. He claimed he didn't know what he had done was a crime in Spain and was released with charges.
The public prosecutor reported that a crime of this kind could be punished with between one and three years in prison and fines.
The Partido Popular in Granada claimed to suspect that the Alhambra and Generalife Management Board has played down the damage so as not to affect Spain's commercial relationship with Jordan and avoid diplomatic conflict.
They plan to request that the head of the board, Maria del Mar Villafranca, appear in public to explain which the report quantified damages at €300, when they are considered a crime from €400 upwards. They are also demanding explanations from the Andalucian Culture Councillor, Paulino Plata.
The case is in the hands of a Granada court which is awaiting an evaluation of the damages and so far there is no date set for a trial.