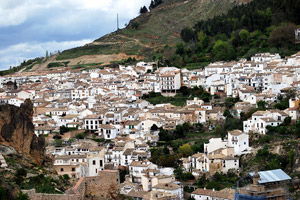 VISITORS spend more money in Jaen than any other province of Andalucia, according to an official study. Jaen attracts tourists who spend €94.3 each day compared to the region's daily average of €69.06.
Each visitor to Sevilla spends an average of €82.09 per day day while visitors leave €74.29 in Cadiz and €69.06 in Granada, found a Junta tourism survey.
One of Jaen's most-visited spots and chosen each year by thousands of tourists, the Cazorla, Segura and Las Villas national park is the birthplace of two rivers, the Guadalquivir and the Segura.
Declared a Biosphere Reserve in 1983 and named a national park in 1986, it has more 1,200 botanical species and is as rich in history and legend as flora and fauna.
The Puente de las Herrerias close to the source of the Guadalquivir is a bridge said to have been built by soldiers accompanying Isabella the Catholic on her campaign to win back Granada from the Moors.
Harder to verify is the Trangantia legend, which relates how a Moorish king who shut up his daughter in his castle's dungeons to protect her was later killed along with his soldiers. The forgotten girl languished there, eventually turning into a creature that was half-lizard, half-woman and whose laments can still be heard each June 24, St. John's day.
Photo credit:cabezadeturco