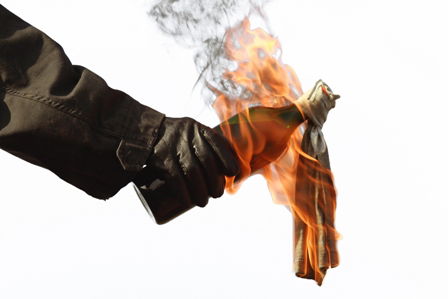 MANY a man's personality changes when he climbs into his car; others turn into hideous monsters when they climb into the state's uniform.
Seventeen-year old Katerina's eyes are swollen with tears when telling of how she and another youngster were repeatedly slapped by anti-riot police, despite neither showing any aggression at a demonstration opposed to the expenses surrounding the Pope's visit.
It isn't an angry child's opinion; the video evidence is being viewed with horror around the world. An investigation is underway.
The police seem to have a knack for turning those who pay their wages against them. Are they too dumb to know anything about karma?
THIS week a bunch of conscience-stricken penitents in Liverpool gather to whine about the slave trade in the 17th Century.
In the modern world we flock to stores to purchase products of modern slave labour. Spanish fashion retailer, Zara; an Inditex brand outlet, is the latest to be criticised for purchasing stock from manufacturers so cruel they make plantation owners look like ideal employers by comparison.
Scathingly Brazil's Ministry of Labour says conditions in the supplier's factories are 'equivalent to slavery.'
Some of the employees are as young as fourteen years old. Inditex has 50 factory suppliers throughout Brazil; the Spanish company has ordered compliance with the law.
It seems the clothes some of us buy cost someone more than they cost us.
ISRAEL reacts badly to comments made by Spanish Foreign Affairs Minister Trinidad Jiménez after she had favoured the recognition of Palestine.
Well, like the Red Indian tribes; Incas and Aztecs of the Americas, the Palestinians have been around and on their own soil for many millennia. Sadly, their human rights are unlikely to fare much better.
I don't know why Israel bothers to respond; they never do to international opinion.
NOW that is what I call belt-tightening austerity. According to Hollywood gossip blogger Perez Hilton, an unnamed Spanish multimillionaire is said to be shelling out €2.4 million to American singer Christine Aguilera to be first-footer at a private party he is hosting here in Spain.
She is said to have been contracted to sing just four songs. Yes, it is good to know we all share very trying times isn't it?