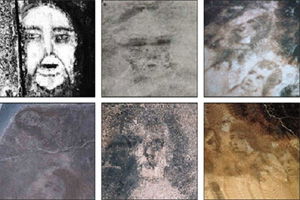 A NEW set of strange marks have reportedly appeared at a property in Jaen province where mysterious 'faces' first appeared on the walls 30 years ago.
On August 23, 1971, the owner of the house in Belmez de la Moraleda, Maria Gomez, claimed that while she was cooking, the clear form of a human face appeared on the cement floor of her kitchen.
Five days later, it was pick-axed and covered with plaster, but within days, the face of a man with a long moustache allegedly appeared once again in the same place.
Over the next few days, more 'faces' appeared on the kitchen floor and the corridor, which sometimes disappeared, moved or changed into different images.
Famous figures from the world of parapsychology began to visit the site and classed it as a mystery, and people came, and still do, from near and far, to see the 'faces'.
Maria would accept money from them, and charge film crews, reporters and writers to take photos. Meanwhile, some local publications claimed they had tested the site and found the 'faces' were painted with nitrate and silver chloride. Further tests by the Spanish National Research Council, however, showed that these substances had not been found.
Maria Gomez died in 2004, and the Spanish Society for Parapsychologic Research visited her home in search of more 'faces'. It was then that less clear 'faces' were allegedly seen. The media accused the town hall of having fabricated the 'faces' after being unable to obtain the house where the first images had appeared to run as a tourist attraction. However, the town hall has always refuted the paranormal origin of the 'faces'.
Although Maria's relatives claimed they were not seeking money, in 2005, a member of her family registered 'Las Caras de Belmez' as a trademark. In 2007, a book was published which intended to show once and for all that the 'faces' had been created artificially, but on the other hand, those who support that they are authentic, believe the origin is a Muslim cemetery from the 13th century which may be located under the house.
Excavations did reveal human remains underneath the kitchen, but not in large amounts. Others believe there is an underground water source in the area.
Just last week, a group carrying out research at the property where Maria was born (where 'faces' were seen in 2004), which had been closed for the past few months, reported having seen new marks on a wall which had been rendered just before the house was closed. An investigation will be carried out.
By Jennifer Leighfield