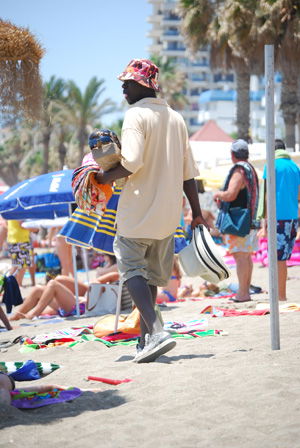 STREET vendors  in central Madrid did a roaring trade as police concentrated on 15-M protesters or Indignados.
Demonstrators occupied the Puerta del Sol square in May and last week police moved on the remaining Indignados, cordoning off the square and its approaches as well as the underground station.
Meanwhile, around 60 unlicensed traders could line the stretch between Calle Callao and Sol, hawking their usual wares of DVDs, perfume, bags, belts and even underpants. Traders, mostly from Senegal, agreed that there was less pressure as police concentrated on preventing the Indignados from returning to Sol.
"Usually we have problems but we've been left alone for the last few days.  We're only here to get enough money to live on," said one who normally made between €15 and €20 a day. Sol's shopkeepers and bar-owners were less contented.  They have lost at least €30 million since the protests began on May 15, they claimed, although some put the figure at closer to €90 million.
The newspaper stand in Sol remained open even during the days when Sol was closed but its only customers were policemen and reporters buying cigarettes or soft drinks.
"I've worked here for 38 years but I've never seen anything like this.  And I've seen demonstrations in my time," said Basi. "Worried?  I'm on tranquilisers!" he said.  "If it goes on like this, my boss will have to close down." Despite the temporary respite, the outlook for the street vendors is not rosy.
The usual Summer Security Plan coordinated between Madrid council and the central government is now in place. There will also be increased security for World Youth Day. This starts on August 16 and with the Pope's three-day visit beginning on August 18, removing street vendors will be a priority.
Photo credit: A Chavarria