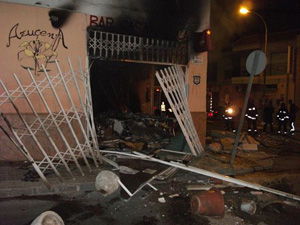 POLICE are investigating an explosion at the Casablanca Bar, in El Alquian district in Almeria, which is run by Moroccans.
The bar, which has Spanish owners and is in an area where racist slogans had recently appeared, was almost completely destroyed in the explosion.
Several residents in the area, who were awoken by several explosions, claim to have seen a car which was parked just metres away from the bar fleeing at speed, and one of the occupants, also thought to be Moroccan, taking off his trousers, which had caught fire, before getting in.
A 28-year-old man was taken to the Hospital de Poniente, more than 35 kilometres away in El Ejido, with severe burns. He later had to be sent to Carlos Haya Hospital in Malaga due to the second degree burns to his face and legs. He is under police surveillance.
Police suspect a settling of scores rather than a racist attack.