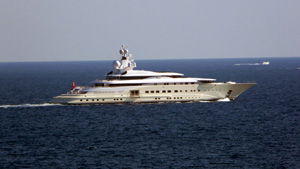 HOLLYWOOD tycoon David Geffen who recent arrived in his $300 million yacht to Mallorca was upstaged by Russian businessman Andrey Melnichenko's megayacht, according to busineinsider.com.
Geffen bought the 376ft Pelorus from Roman Abramovich a couple of months ago, he now owns two megayachts that rank within the top 20 largest yachts in the world. The Pelorus boasts two helicopter pads, a swimming pool, a spa pool, and an owner's suite with 180-degree panoramic views and a private deck.
The Russian billionaire's Philippe Starck-designed megayacht 'A' is bigger than the Pelorus at 390ft and is the 15th largest yacht in the world.
Inside this yacht there are $40,000 bath faucets, $60,000 stair banisters and an all-white 2,583 square foot master suite wrapped in bullet-proof glass that is accessed by a silver-plated staircase with a fingerprint scanner at the door.