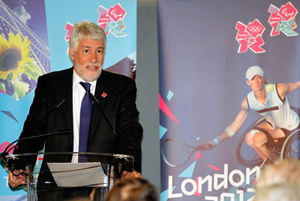 WITH one year to go, London is ready to host the 2012 Games – and create jobs and investment opportunities for Spanish companies.
The legacy of the 2012 Games will create major opportunities for Spanish and other foreign companies to invest in one of the world's global cities. Britain wants to attract overseas companies to expand and set up new businesses, creating jobs and prosperity for the UK economy, the British Embassy in Madrid said in a statement.
At an event yesterday (Wednesday) in Madrid hosted jointly by the Spanish Olympic Committee and the British Embassy, HM Ambassador to Spain, Giles Paxman, said: 'We look forward to inviting Spain's elite athletes and to welcoming Spanish companies to see for themselves the transformation of east London and the investment opportunities that are being created.
With one year to go, the main facilities of the Olympic Park are all finished, including the Olympic Stadium, Velodrome, Basketball Arena, Aquatics Centre and Athletes' Village. FCC Construccion of Spain is fitting out the International Broadcast and Media Centre that will house 20,000 journalists during the Games.
After the Games, the Olympic Park will become one of London's most important regeneration projects for the next 25 years, and a catalyst for the transformation of east London.
It will have five world-class sports venues, 2,800 new homes set around open spaces and waterways, modern utilities and communications infrastructure networks, greatly improved transport connections, and Europe's largest indoor shopping centre. Nearby Tech City in east London is already home to one of the largest concentrations of fast growing digital technology companies in Europe, up from 15 firms in 2008 to over 300 today.
HM Ambassador Giles Paxman said: 'The Olympic Park and surrounding areas offer enormous potential for Spanish and other international companies to invest – regenerating the area and building new businesses in what will soon be one of the most modern, vibrant areas of Britain.'