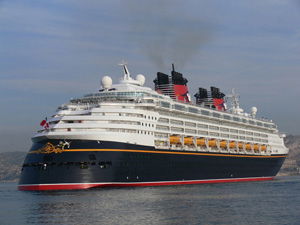 THE cruise ship Disney Magic which docks at Gibraltar twice a year had to pay an unexpected visit to Palma de Mallorca Port due to bad weather.
Disney Magic arrived in Palma from Ajaccio, Corsica, with 2,640 passengers and departed in the afternoon to Barcelona.
Some of the American passengers on board had previously taken the 14-day Atlantic crossing cruise from Port Canaveral in Florida with stops in Castaway Cay, Tortola and Sant Martin before crossing the Altantic to Fuchal in Madiera, Cadiz, Gibraltar and disembarking in Barcelona.
The return trip can be made in September. 
Disney Magic was built in Italy with a classic design with two fireplaces that evokes the golden age of the great ocean liners, which entered service in 1998 for Disney Cruise Line. This cruise ship recreates the magic of Disney World, and on board there is always one of his characters, with large spaces designed for children.
By Nicole Hallett