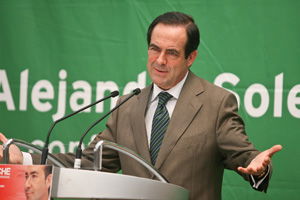 SEVERAL senior Spanish politicians have been known to say outrageous things. "I'M fed up to the back teeth… I'm not with it," grumbled Speaker of the Spanish parliament Jose Bono last week.
This was the gist of  "Estoy hasta los huevos… estoy trastornado", picked up by Bono's microphone at around 10pm during a parliamentary vote when he repeatedly jumbled the motion's name at the end of a long sitting.
But the Spanish language, not to mention Bono, is verbally forceful and what he actually said was "I'm fed up to the ba**s." The incident echoed another involving Federico Trillo, one of Bono's predecessors as Speaker, in April 1997. Losing patience he muttered "¡Manda huevos!" as the chamber prepared to vote on a complex and longwinded amendment.
No-one overhearing Trillo's aside took it to mean anything other than "What a drag!" because both he and Jose Bono were using expressions diluted by circumstances, offensive only when taken out of context. Socialist Bono and Conservative Trillo also demonstrated that Left and Right are equally afflicted by the time-honoured practice of opening their mouths and putting their foot in it by swearing.
Jose Maria Aznar, PP president from 1996 until 2004, made a 25-minute speech to the European parliament in 2002 and on sitting down commented ¡Vaya coñazo que he soltado!
Apart from Aznar's astounding admission that he had subjected the chamber to bulls**t, there were no repercussions regarding a word which, based as it is on the Spanish (as well as the English) c-word, would be highly offensive in an English-speaking country.
But Spain is Spain and leader of the Opposition, Mariano Rajoy, had no qualms about using this word to convey the tedium of attending a military parade on Armed Forces Day, October 12 nearly three years ago.
Nor are the indiscretions betrayed by microphones limited to male politicians.  The identity was never established of the "hijoputa" referred to last year by Esperanza Aguirre, president of Madrid's regional government, but we all now know that she was glad the "sonofabitch" was kept off the board of Caja Madrid bank.
Even a banker like Emilio Botin, president of Santander, can forget – as he did on encountering opposition to a 2009 takeover bid – that an open microphone takes no prisoners.
The word he used as two dissatisfied shareholders were applauded at a board meeting might be Spanish for cuckold, but he meant bastards when he spluttered "Cabrones, como aplauden con éste!" 
As happened with Botin, not every expression is free of spite.  This was certainly the case in 2004 when a miked-up Jose Bono, then president of the Castilla-La Mancha region, called Tony Blair "un gilipollas."
It loosely translates to "stupid pr**k" and few doubted that any offence caused was entirely deliberate on Bono's part
By Annie Maples