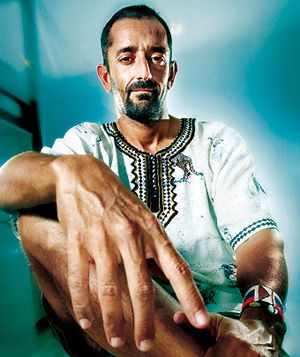 A TOP Spanish surgeon carried out the world's first double leg transplant in Valencia.  The delicate 10-hour overnight transplant operation was led by head surgeon Pedro Cavadas dubbed 'Mr Miracle' in the media.
This is the same surgeon who carried out the first double arm transplant in Spain and the second in the world in October 2008 and Spain's first face transplant in August 2009. "When the patient awoke and saw his legs, he started to cry with joy," said Cavadas.
"I imagine he will be able to walk with crutches and in the long term he will even be able to leave the crutches, but that depends on how his rehabilitation goes," the doctor said.
"If everything goes as we hope we could realistically think that in six or seven months he could be walking." The 20-year-old patient had to have both his legs amputated above the knee after a traffic accident.
Due to the height of the amputation he was not able to use prosthesis. Before the operation, his only other option had been a wheelchair.
Following this ground-breaking surgery he could begin to move his new legs in "three weeks and support his own weight in three months", Cavadas believes.
More than 50 personnel were involved in this double leg transplant surgery, including surgeons, nurses, anaesthetists and transplant coordinators, according to the Valencian Regional Government. Nerves, blood vessels, muscles, tendons and bone structure had to be connected by surgeons, making this an extremely complex operation.
"The patient will now undergo intensive treatment to prevent rejection of the transplanted limbs and he will have to take immunosuppressant drugs for the rest of his life," was the official statement.
"Afterwards he will have to undergo a long process of physical rehabilitation to be able to move his legs." The operation gained clearance from the National Transplant Organization in May 2010 and then the health ministry in November 2010 before the patient was selected.
Spain has become a world leader in organ donation since it set up a network of transplant coordinators in 1989 at all hospitals to closely monitor emergency wards and identify potential donors.
When there has been a death, they tactfully discuss the option with grieving families of using the organs to help save the lives of others.
Photo credit: hombr.com
By Nicole Hallett